Retaining and attracting staff are some of the biggest challenges that restrict accountancy firms from growing. Frequently, overqualified staff are spending their time completing the everyday compliance and procedural work with less time spent on billable work, facing clients and nurturing relationships.
In Australia's costly and highly regulated workforce, firms are seeing wages increase causing margins to shrink even further. Add this to the fact that highly qualified staff are being paid to complete low value, back office admin and it raises some real business viability issues.
Staff utilisation is a challenge that a lot of businesses face. It's the reason why many accountancy firms are looking for different strategies that will maximise efficiency. A well-known strategy that a lot of business owners are turning to is outsourcing.
The following blog will address the benefits of outsourcing and why accountancy firms are choosing the Philippines as their offshore destination.
Why The Philippines?
The Philippines is one of the best outsourcing locations in the world.
The cost of living in the Philippines is significantly lower than that of Australia. This means that employment costs are approximately 70% cheaper.
Not only is the Philippines in the same time zone as Perth, it's also the third largest English speaking country in the world. English is a primary language taught in schools, universities and even spoken in government. The even government provides funding to support the business process outsourcing (BPO) industry to provide world-class technology and internet infrastructure.
Technology in the Philippines
Thanks to technology, working with an offshore team member has never been easier. You can still email them, call them, share documents, instant message them and so forth. The only thing you can't do is physically sit next to them.
Web conferencing is now ridiculously cost effective, reliable and the quality is great. Not only that, the internet infrastructure in the Philippines is significantly better than what we have here in Australia. This means that your offshore staff will be just as accessible as your local team.
As long as your offshore team members have access to the internet and a computer, you will be able to share and collaborate on almost anything cloud-based.
Why outsourcing to the Philippines makes good business sense
Growing an accountancy firm can be difficult. In fact, accountancy firms are feeling the pinch more than ever right now. If retaining staff wasn't difficult enough, wages are increasing making it near impossible for firms to hire the help they need to remain viable. A quick look on seek.com.au shows a Sydney based assistant accountant earns around $60k per year.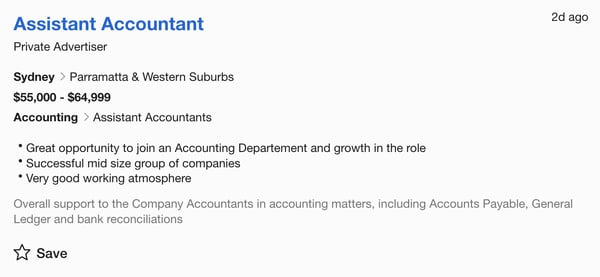 However, this is just the salary. This pay package doesn't include the cost of office space, equipment, internet, superannuation, recruitment costs, training and any other overheads associated with HR. So, very quickly $60k becomes $100k.
On the contrary, you can hire an offshore, English speaking, university educated team member in the Philippines for around 70% less - including all of the above costs, onsite office management, security and pre-commencement training.
Cost savings aside, a Philippines-based outsourcing strategy can also help you manage the risks associated with business growth.
Want to grow your business?
To explore other alternatives that will boost your firm's productivity and profitability, check out this blog.