As Australians prepared to hit the beach in late 2022, two things were guaranteed – the sun was going to be shining and the word 'boom' was going to be in hospitality headlines.
"Summer boom as bookings surge." "Hotel owners set for summer boom1." Even globally renowned business publication Forbes got in on the act - "Tourism boom Down Under: 20 new Australian hotels for southern summer travel rebound."2
After several years of heartache inspired by bushfires, floods and a global pandemic, accommodation and hospitality operators were beaming as Australians and overseas visitors flocked to their favourite hotels, restaurants, bars and venues. 'Social distancing' and 'lockdowns' were a distant memory, while airports were once again hives of activity as people came out to play.
Scratch beneath the surface though and challenges remain for a sector that has become accustomed to navigating them. The dark days of 2020-21 may be gone but hotel and hospitality providers know there is no time for complacency as they confront a new set of hurdles.
Current challenges in tourism and hospitality
A lot has been written about global labour shortages in recent times but for a true insight into the issue, look no further than the impact it is having on the hospitality sector. The combination of the 'Great Resignation' during the pandemic and a dearth of overseas workers means Australia is facing an estimated shortage of 100,000 workers for the country's restaurants, cafes and bars3. This is supported by data from timesheet and rostering platform Deputy that shows nine out of 10 of its customers, many of whom are hospitality businesses, are searching for new staff3.
Like almost all Australian businesses, hotel and hospitality providers are also keeping an anxious eye on economic forecasts. With the nation's inflation rate at its highest for more than 30 years4 and interest rates on the rise, customers are likely to start reining in spending at a time when many hospitality businesses are needing to raise their prices to cater for increased wage demands and produce shortages.
All is not lost though. Countless business leaders will tell you that every cloud has a silver lining and in the current environment it is the chance to explore a new way of doing business. In many ways, there has never been a better time for hospitality operators to embrace innovative resourcing solutions that can improve efficiencies, reduce costs and boost productivity.
This is particularly so for a function that is the lifeblood of any hospitality business – reservations. With many hotel operators growing their capacity to manage direct bookings, now is the time to carefully review how they are being managed and weigh up the benefits of partnering with quality outsourcing providers that specialise in reservations.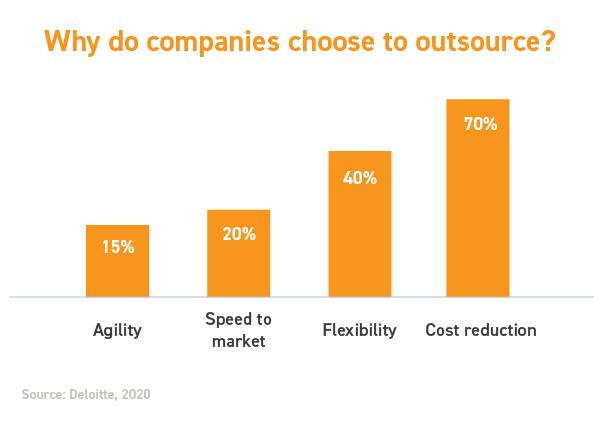 What are the two types of reservation process?
There is no doubt that outsourcing reservations can benefit hospitality organisations but before doing so, it is crucial to know the different ways customers can make a booking.
Direct reservations:

why forgo money to third parties when you can manage bookings yourself? Direct reservations sees customers connect directly with a provider, be it via email, phone, the organisation's website or its social media channels. Keeping reservations in-house (or with the support of a trusted outsourcing partner) is a popular choice for operators that want to maximise revenues and prioritise control.



Indirect reservations:

the 21st century has seen a boom in indirect booking channels on the back of technologies that collate and showcase various options for customers. Rather than go directly to the source, people can compare different hotels, prices, services and promotions before selecting the restaurant or hotel that best meets their needs. This sector is synonymous with Online Travel Agencies (OTAs) such as Agoda, Booking.com and Expedia, which profit by taking a cut of each booking as commission. Meanwhile, TAs (Travel Agencies) are popular with people who want to make bookings for large tour groups.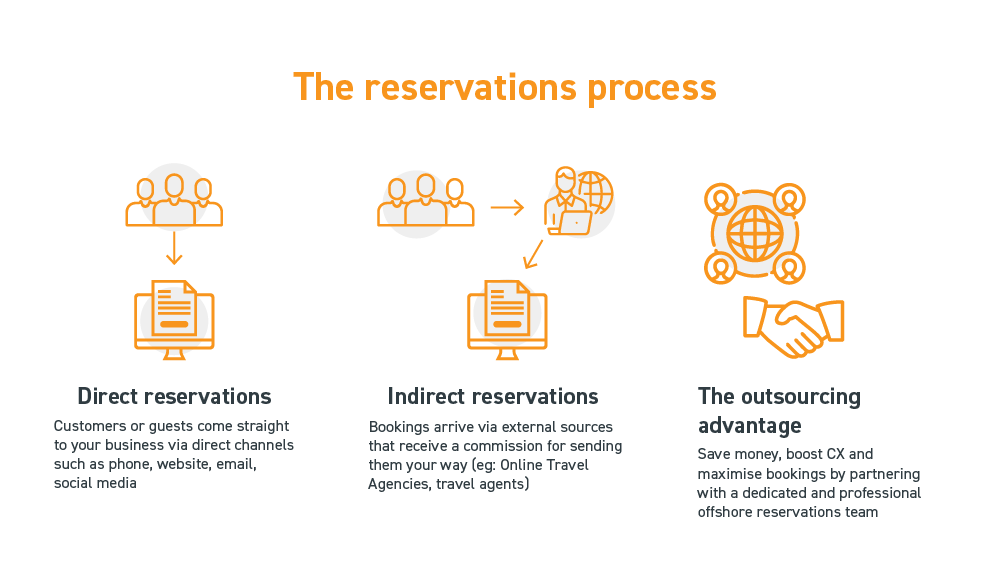 What are the benefits of outsourcing reservations?
With exceptional customer experience the foundation of successful hospitality businesses, many operators are tapping into the benefits of incorporating an outsourced contact centre or offshore staff into their direct reservations plans. These include:
Better service quality:

anyone who has worked in hospitality knows the huge number of tasks and issues they face each day, all of which are expected to be completed with a smile on their face. Imagine if answering booking enquiries and addressing phone, email and online reservations no longer needed to be on that list. Outsourcing reservations reduces the risk of missing bookings or failing to grab upselling opportunities because dedicated offshore staff are dedicated to the job.



Improved customer experience:

it is no exaggeration to say hotels and restaurants live and die by their ability to deliver premium customer experience. That extends to handling booking enquiries and reservations in a friendly and professional manner, which is why it should not be left to front-of-house staff who already have enough complaints, issues and demands to deal with. Positive word of mouth is a huge marketing tool for hospitality operators and outsourcing reservations helps cultivate it from the outset.



24/7 support:

it is all well and good for major chains to invest in in-house staff to handle enquiries or reservations around the clock but what about smaller operators? Offering 24/7 access to reservations is costly but the combination of complementary time zones and reduced labour costs means offshore reservations teams can make it a reality for any organisation.



Scalability:

the hospitality sector is all about peaks and troughs. School holidays, long weekends and peak seasons (e.g. Thredbo in winter, Bondi Beach in summer) create periods when demand for reservations soars and operators find themselves battling to keep pace with enquiries. Outsourcing reservations offers them the ability to increase or decrease staff numbers not only at short notice but in a cost-effective manner.


Cost reduction:

as proven above, there is a lot to like about outsourcing but saving money remains top of the list for many businesses. For example, the Philippines is home to a highly educated and professional workforce but its lower cost of living means operators can save up to 70% on labour and associated costs. This can make a huge difference in a hospitality sector where surviving on tight financial margins is a fact of life.
Don't miss an opportunity
Here is another fact of life - a missed booking is a missed opportunity. The good news is outsourcing reservations ensures the right people and systems are in place to maximise bookings, upsell or cross-sell products, facilitate customer queries and increase revenues. In-house staff will also be grateful as it means they can spend more time doing what they love – delivering great guest experiences – instead of handling the mundane and time-consuming aspects of reservations.
Aligning with an outsourcing partner that is transparent is crucial for any successful partnership. Discover the hidden costs of outsourcing that businesses should look out for to avoid a poor return on investment.