The IT services industry is expected to grow at a compound annual growth rate of 8.87% between 2019 and 20261. To meet this expected growth, the demand for IT support functions such as help desk, service desk or desktop support and IT service management will increase.


But how do you identify what IT support functions your business needs to invest in? For example, do you really need a help desk specialist or instead, should you employ a team of service desk specialists? How can you tell the difference between these IT support functions?

In this blog, we take you through the key differences between three main IT support functions, service desk, help desk and IT service management to better understand which one your business should invest in to hit business goals and deliver operational efficiencies.
What is the difference between the help desk, service desk and ITSM?
A help desk is a single point of contact for IT-related issues, while a service desk manages a range of IT services. ITSM is a comprehensive approach to managing IT services, including the service desk and other IT functions, to optimise support for business goals.
When it comes to managing IT services and addressing user needs, three terms often come up: service desk, help desk, and ITSM. While they are related, there are key differences between these terms.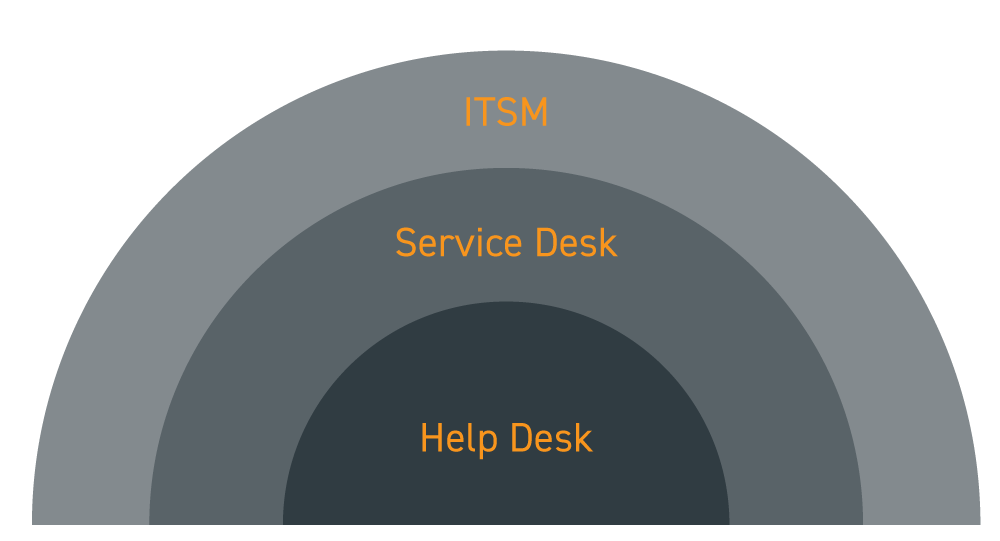 What is help desk support?
Help desk support is responsible for troubleshooting and providing technical support to staff, customers or clients experiencing hardware, application and software issues quickly and efficiently. They resolve queries, analyse problems and implement solutions. They may also be tasked with installing peripherals and performing general computer maintenance and updates. They are usually the first point of contact for businesses and their users when an IT issue arises and will escalate to the service desk or ITSM if required.

The help desk is all about speed and efficiency in resolving or troubleshooting problems. They are not focused on providing a service to users, like a service desk. Instead, they are IT-centric. This means they are incident management experts and have a break/fix mentality.

They are heavily process-focused. They want to get to the issue at hand as quickly as possible and fix it as quickly as possible for users. As they are 'first responders' to most IT issues, there is an element of customer service present too. They need to be able to discern the problem through efficient communication with end-users, before implementing their break/fix processes.

It's not to say that help desk specialists don't care for end-users, but more so that in some companies, hardware and software issues need to be addressed immediately, especially where it concerns data security. In fact, many organisations employ help desks to be these go-getters who can be deployed to get to the root cause quickly and resolve it before any further damage or time is wasted.

Examples of help desk support tasks
Help desk support duties and tasks include, but are not limited to:
Responding to queries and concerns and troubleshooting to solve immediate and infrequent problems

Running computer diagnostics to identify problems in software, hardware and peripherals

Completing support tickets
Upgrading and installing new hardware or software systems.
What is service desk support?
When end-users seek more of an in-depth IT solution that is not as easily resolved, these issues escalate from the help desk to the service desk. Like the help desk, service desk support is also responsible for providing technical support and assistance for problems, including software and hardware issues. They are troubleshooting experts and handle a broad range of technical complications such as connection issues and unresponsive applications. However, the main difference is the word "service".
The service desk aims to provide a "service" to end-users that can take longer to resolve and are both customer-care-focused and IT-centric. In contrast, a help desk offers a quick and fast resolution to 'help' customers in a timely manner. The service desk is the concept of "IT as a service". Service desks are also more cross-functional and strategic. They take into account wider organisational requirements and context when dealing with service requests or issues.
Requests for new IT services are an example of service desk support functions. It's not to say the help desk can't assist in this function, but remember, help desk support team members go from one ticket to the next as quickly and efficiently as possible. For example, suppose an issue is identified that requires more time, investigation or end-user engagement to resolve. In that case, it's better for it to be escalated to service desk teams who have the resources to deal with these issues, than waste valuable help desk time.
Examples of service desk support tasks
Service desk duties and tasks include, but are not limited to:
Assisting customers with troubleshooting software issues
Walking customers through launching new programs and installations
Providing customers and end-users with IT support documentation
Recommending alternative software or hardware components to customers
Controlling customer computers remotely to resolve issues
Fulfilling service requests such as providing new laptops or onboarding new employees.
What is IT service management support or ITSM?
Going up the ladder from the help desk to the service desk, the next escalation point is IT service management or ITSM. The keyword here is 'management'. They are the umbrella of the IT department and oversee all IT service functions, including the service desk and help desk.
ITSM is not just basic IT support. They are focused on managing the end-to-end delivery of IT to customers, clients or end-users. Anything to do with creating, delivering, supporting or designing IT support functions and services is done at the ITSM level.
ITSM manage the following:
Service request management
Knowledge management
IT asset management
Incident management
Problem management
Change management.
It may sound strange to think that asset, problem and change management fall into the scope of ITSM, but remember, they are responsible for delivering IT support across an organisation. So they require access and control over all functions related to providing this support efficiently.
Do the tools and applications used across IT support functions differ?
The short answer is no. While some organisations can tailor and create tools and applications for help desks that may be different to their service desk teams, in the end, the information needs to be able to be transferred across each team efficiently if further escalation is required. It would be inefficient to re-enter end-user issues across different systems with no proper tracing of actions taken to resolve these problems.
There are five key elements to any successful IT support system: automation, collaboration, integration, self-service and reporting. The following are examples, in no particular order, of popular IT support tools and software that possess these five elements:
















How can IT outsourcing help businesses cater to end-user needs?
Technical support is a vital function for any business, but it can be difficult to manage in-house. Outsourcing can be a cost-effective solution that frees up local teams to focus on core business activities.
For example, a small tech startup company, required additional resources to help support its existing client base. Since embracing outsourcing, they have been able to maintain excellent customer support metrics by hiring an all-rounder technical support systems administrator in the Philippines. This outsourced end-user specialist has achieved a 53-minute first response median on support tickets, compared to the 18.3 hours benchmark for IT services businesses with 1-9 employees.
By outsourcing these functions, businesses ranging from start-ups to much larger companies can focus on their core business. Their local team can work on new product development, technical upgrades and bug fixes - developments that will generate new sales and customers.