Skip straight to the statistics summary
Before the pandemic and even now, there is one word that describes a successful HR professional or team: adaptable. The ability to pivot and show resilience and creativity amidst change has become essential. One of the ways businesses have started to help their HR function innovate and be more adaptable is by investing in a solution called human resource outsourcing.
Human resource outsourcing, HRO or HR outsourcing is the process of sending human resource-related tasks to an organisation outside of your business to complete. These team member(s) can offer the support needed to elevate your onshore HR team's capabilities and as a result, positively influence your organisations bottom line.
In this blog, we take a look at the current state of the global HRO market, the statistics you should know and what HR tasks you can start offshoring to reap the benefits.
The current state of the HR outsourcing market
According to PR Newswire, in 2020 the global HR outsourcing market was estimated at AU $46.7 billion. By 2027, it is expected to reach AU $65.3 billion, with a compound annual growth rate of 4.9% between 2020 and 2027. This growth can be attributed to the adoption of recruitment analytics and digitisation within the industry.
So what are the statistics behind this growth? What do the facts say? Here is a comprehensive list of the HR outsourcing statistics you need to know, especially if you're considering investing in an outsourced HR team:
Deloitte interviewed executives and leaders from 25 different industries and sectors and asked how their business perceives the benefits of outsourcing. These were the findings: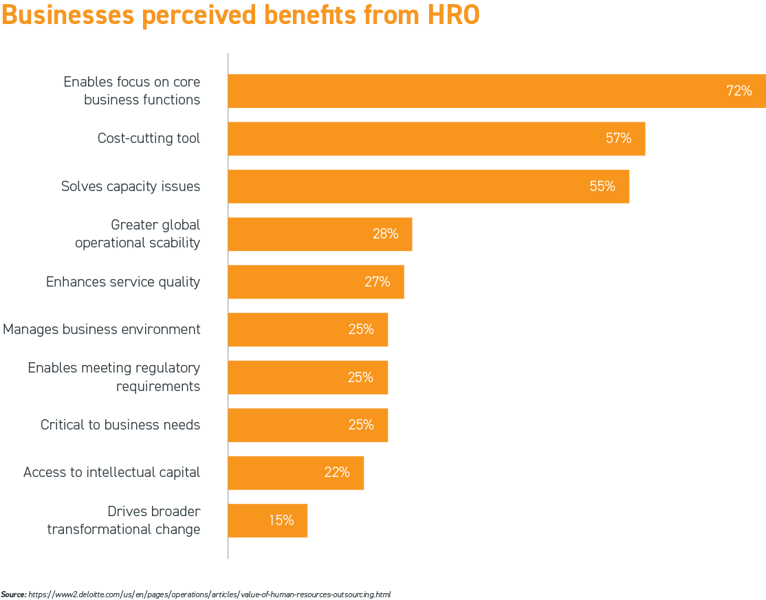 Outsourcing can provide your HR department with access to the best global talent, all while saving on employment costs. These statistics showcase how outsourcing can help your business reassess its HR department and enable a more productive way of operating.
What are the benefits of HR outsourcing?
Here is how your organisation could benefit from outsourcing HR functions and tasks:
Have more time to work on what matters
If you haven't already, take time to briefly analyse how much time your HR team spends on establishing existing and prospective employee rapport versus payroll administration. Or how much time is spent developing strategies versus placing job advertisements and reviewing candidate pools.
Harvard Business Review found that 85% of executive leadership teams spend less than one hour per month discussing their unit's strategy, with 50% spending no time at all. Updating policies and keeping track of employee records is a full-time job in itself. Add generating new staff contracts, managing payroll queries and so on and there is another full-time position. If this rings true for your business, then outsourcing these types of tasks that take away from strategy-focused activities could be a solution.
Get access to the support your team needs
Thanks to the effects of the pandemic and trends such as 'The Great Resignation' or 'The Great Re-evaluation", national, state and local labour laws and regulations are constantly changing and evolving with today's workforce. Regardless of the size of your business, ensuring compliance with superannuation, employee overtime, union requirements and WorkCover is critical. If careful attention isn't given to these areas, the repercussions can be significant.
Human resource outsourcing can provide the additional hands you need to help support your onshore team with monitoring these changes and re-writing policies and procedures. This extra support can work under the direction of your HR leaders to keep your business compliant with federal, state and local laws as necessary.
Improve efficiencies
Here's another self-assessment question: How much time does it take for your HR team to create an employee handbook or write up job advertisements or position descriptions? If your business has a few internal departments, chances are their hiring requirements and ways of working are also very different. This could mean independent training modules and guidelines for each that are required to keep work practices uniform and up-to-date.
A human resource outsourcing provider can help you develop these policies and procedures tailored to your organisation's requirements. They are experts at liaising and drawing on information from managers to create these documents and can even monitor when policies need updating or changes.
Cost savings
HRO can save your business up to 70% on employment costs. Depending on the location of your HR outsourcing provider, you can take advantage of the lower living costs of countries like the Philippines, where the cost to employ, say, a HR specialist, is significantly lower than hiring one onshore. In addition to this, quality will not be sacrificed. You will save money that can then be re-invested into other areas of your business to increase efficiency and even support business growth.
What tasks are commonly outsourced?
Depending on your organisations needs, you may start by outsourcing one or two roles or even build a team offshore from the get-go. Here are some examples of HR tasks that are commonly outsourced:
Talent acquisition

, including pooling talent, background screening and setting up job advertisements

Payroll processing

(may or may not sit within your finance department; depends on the organisation)
Employee benefits and rewards
Employment law and regulations compliance
Employee relations and performance management
Risk, anti-discrimination and bullying management.
How to get started?
Want to capitalise on these statistics? Want to learn how HRO may be the right fit for your business? We've created an in-depth guide to human resource outsourcing, packed with the who, what, where and why answers you need to get started.