Keeping the accounting function of any business running efficiently and smoothly is paramount to business success. Do you want to cut costs? Accounting keeps track of your income and expenditure to show you the areas where you may be spending too much. Need to ensure you are compliant with financial reporting standards? Accounting ensures statutory compliance by keeping up to date with AASB or IFRS changes. Seeking additional funding for future projects? Your accounting department can provide investors, your management team and the government with the information they need to make important business decisions.
Your accounts receivable function takes care of the funds customers owe to your business, your accountants or bookkeepers ensure your books are in order and financial reports get submitted on time and your accounts payable function manages the debts owed by your company. In accounting, everything is connected.
In this blog, we will focus on one specific accounting function: accounts payable (AP). You will learn why it is important, the challenges faced by these teams and some tips on how to streamline the AP process for your business.
What is the accounts payable process?
According to Freshbooks, a popular invoicing and accounting software for SMEs, when a business purchases goods and services from another business on credit that "needs to be paid back in a short period of time, the accounting entry is known as accounts payable".
On their balance sheet, a financial statement that details a business's assets and liabilities, that accounting entry appears under the section for current liabilities. A business's accounts payable department is responsible for making these payments owed by the business within the agreed payment terms; usually dictated by the business owed.
Depending on the size of the business, an accounts payable function may just be one or a team of dedicated accounts payable officers, or for most SMEs, the accounts payable and accounts receivable functions are merged into one role. Occasionally, bookkeepers may also absorb AP and AR functions into their roles. It's purely dependent on the volume of work and the type of industry you operate in.
Here is an example layout of an end-to-end accounts payable process: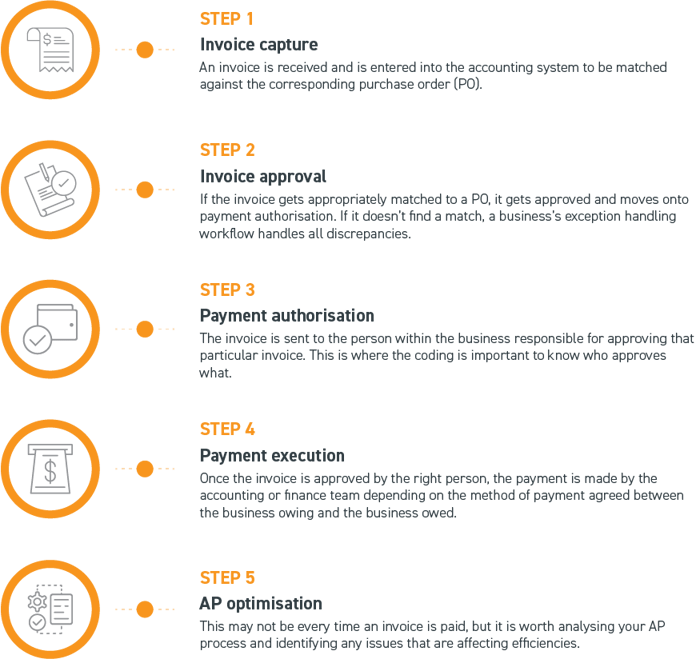 What does an accounts payable officer do?
An accounts payable officer can complete a number of tasks including but not limited to:
Checking invoice accuracy
Inputting and coding invoices correctly
Matching invoices and purchase orders
Processing and paying invoices
Following internal payment approval processes
Scheduling payment runs
Managing creditor enquiries for payment
Processing employee expense claims
Performing reconciliations
Monthly reporting
Working with required accounting software such as MYOB, Xero or Quickbooks.
Why is accounts payable an easy function to outsource?
Outsourcing AP involves sending accounts payable tasks to someone outside of your organisation to complete. The reason businesses find it easy to outsource AP is because of how time-consuming, repetitive and transactional a lot of their tasks are. AP tasks are easily delegated to outsourced teams as long as the software and training and provided to ensure seamless communication of expectations.
What are the four key functions of accounts payable?
Accounts payable is more than just paying bills and invoices on time on behalf of the business. There are four key functions to an efficient accounts payable cycle:
Invoice verification: verifying invoices against purchase orders (PO).
Invoice reception and categorisation: ensuring the goods and services are received prior to paying the business owed; also known as invoice processing and assigning categories to these expenses.
Data capture and coding: entering the details of the invoice into the business's accounting software accurately using 'codes' that help organise expenses utilising the categories assigned to payment.
Routing

: involves sending the invoice to internal stakeholders responsible for the expense to approve prior to payment.
Why is accounts payable management important?
Your AP department is responsible for ensuring payments to those who provide you with services and goods are made efficiently and on time. Without an efficient AP process, you could jeopardise your relationship and reputation with your suppliers, leading to issues in your supply chain down the track.
According to Deloitte, these consequences can arise when a business:
Fails to issue purchase orders for each new order
Doesn't confirm if order deliveries match contractual terms
Incorrectly load supplier information into accounting systems
Lack processes and systems to prevent issues with payments.
Having accounts payable management procedures in place is important as it helps businesses manage credit purchases and can help avoid the aforementioned consequences above.
What are the challenges faced by accounts payable?
The five most commonly faced challenges in the accounts payable process are:
Inefficient paper-based systems: rely heavily on manual effort and can lead to human error issues. Implementing the right technology can offer complete visibility of the AP processes in play and identify opportunities to improve your invoice processing procedures.
Payment fraud: as digital transformation rises, so do issues with data security. Mitigate fraud with tools like multi-factor authentication and invoice and payment risk scoring.
Inefficient data management systems: with the right systems in place, you can mitigate data mining and get straight to the information that matters.
Poor vendor relationships: cash flow challenges can lead to issues meeting payment terms. Investing in AP outsourcing or AP automation can allow you to find time to strengthen those relationships.
Disregarding automation efficiencies

: automation solutions can help free up staff to focus on strategic goals, help increase efficiencies and offer cost savings. It can make the AP function of your business more visible and valuable.
How do accounts payable softwares help businesses?
Accounts payable plays a huge role in managing your expenses. A good AP automation software can help minimise data entry tasks and paper invoices. It can help you securely pay your suppliers, drive consistency across the payment process and help control cash flows while minimising AP spending. These savings can allow your business to spend more time on strategic-based functions like financial analysis.
How to streamline the accounts payable process?
Here are some areas within accounts payable that you can optimise to streamline the process and lead to greater business efficiencies:
The vendor selection process: setting up preferred supplier lists to prevent inefficient purchases and position your business to negotiate the most favourable buying terms.
Review vendor and supplier contracts: to prevent inaccurate and fraudulent billing practices which could lead to overpayment or duplicate payment issues, it is essential to regularly review the contracts you have in place with suppliers. Consider asking your legal team or consultant to review periodically.
Ensure up-to-date overall accounting procedures: you need to ensure that your financial records accurately reflect current AP balances. If incorrect, your business can lack visibility into how much, when and how often you pay suppliers.
Consider alternative resourcing solutions

: if you are finding that a lot of your time or that of your accounting team is spent on time-consuming AP data entry, why not consider outsourcing as the solution. No matter how big your organisation is, sending out simple, transactional tasks involved with accounts payable, can allow your local team to focus on more complex tasks, and jobs that will be of more value and impact to your business growth and development.
What's the difference between accounts payable and accounts receivable?
Accounts receivable and accounts payable; while often grouped together are two very different accounting functions, on entirely different spectrums of the accounting field when their responsibilities are actually broken down.
Some businesses have a whole team of accounts payable officers and one account receivable officer or vice versa. Some have one employee, say a bookkeeper, that handles both the accounts payable and the accounts receivable functions. How much a business invests into each of these accounting functions depends on their individual business needs.